3D pulse
It is known that in the oriental medicine the methods were based on the synchronous pulse measurements in several (3) points that let them diagnose hundreds of illnesses.
DC21P scanner lets us simultaneity determine pulse in 300000 points and get not only stipple, but also volume (3 dimension) information about the pulse.
This product comes with following components:
DC21P 3D pulse scanner;
CD-ROM with software for Windows 98; 2000.
Getting the fingerprint image of fingers is an extra ability of DC21P scanner and it can be used in the various security systems as like DC21 scanner.
For doing medical researches with DC21P scanner the additional information can be provided, including the source codes and programs' texts about using the scanner. An example of the multipoint pulse program is on the picture below.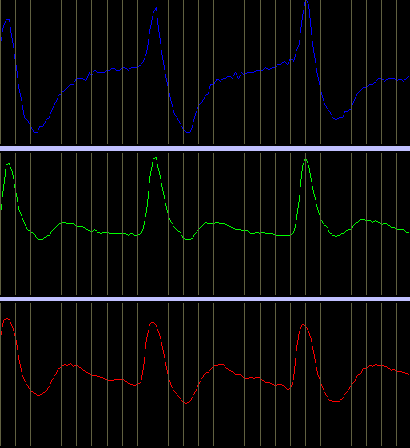 3-point pulse
Please, contact us about price information.