BiCard
BiCard is the world cheapest biometric chipless smart card with high security level. BiCard is not only the product, it is the technology that can produce and use the tickets, documents and plastic cards for any applications of person's identification.
BiCard technology is protected by international PCT application WO01/52174.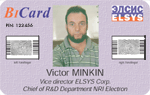 BiCard - biometric card
BiCard - business identification card
BiCard - billion cards in the nearest future
BiCard - two fingerprints in one card
BiCard - fingerprint and live finger are read by one BiScan
BiCard - two minutes to create and two dozen years to use
BiCard - world wide technology from passports to tickets
BiCard - your identity card
Technology
BiCard technology is based on the possibility of reading the live biometric parameter (fingerprint) and the image on plastic card or paper by one sensor - DactoChip. So, you can easy read and identify the image from plastic card, if it has properties (minutia) analogical to the real finger. The symmetrical position of two fingerprints on plastic card permits to read both fingerprints by one sensor. The card is fixing into the sensor like the finger is fixing into this sensor.
Practically every biometric company suggests the solutions based on biometric cards. All those solutions are more or less expensive and promise more or less security. We don't see the reasons to put a big lock on the glass door and to put expensive chip on a card. We suggest the cheapest biometric card security solution and you can select your security level by yourself.
The main BiCard advantage is the zero price for stored biometric information (on the card) and zero price for card reader.
The zero price for biometric information comes from the card manufacturing technology. When card is personalized usually only users name and family (or photo) prints on the card. On BiCard simultaneity with family are printed the fingerprints, as a real fingerprint image (or skeleton, or encrypted image) and the price of BiCard is not more than the price of usual plastic card without fingerprints.
The zero price for card reader comes from the using one fingerprint sensor for live finger and BiCard reading.
Because of this BiCard is the cheapest biometric solution in the world and can be used for any biometric security application from access control to passport systems.
Standard BiCard system includes:
Fingerprint sensor (BiScan or DC21 or other which can read as a finger as a image on card).
PC with special soft ware and accessories (depends on application).
Card Printer (For example, ImageCard Select from DataCard).
Card blank with special design.
The cards and sensors design and quantity depends on application type.
One of the example of BiCard technology you can find in Passport Systems. We are ready to suggest the license for your application of BiCard technology. Please, feel free contact us by mail, if you have questions, suggestions or need further information.