Fingerprint forecast
If you want to get the genetic information about you and your relatives, just send 10 your fingerprints to us. We promise you will know so many interesting and new things about yourself.
Dactyloscopic picture with the detailed information about different spheres of your life (love, power, fortune, art and business) will be sent you by e-mail within 48 hours since we've got your dactyloscopic card.
Naturally, the good and neat depictions of your fingers are the guarantee that you will get the more authentic information about yourself. The universal fingerprint scanner DC21 gives the most neat and clean fingerprints' depiction.
If you don't have this one scan, you can leave "inky" fingerprints on a paper, scan the list by usual scan and send us the received depiction.
Please, number your files with the depictions according to Fig. 1 and send them as the enclosures to minkin@elsys.ru. Herewith it's necessary to write your height in the letter.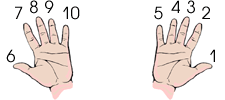 Fig. 1 Fingerprints numeration
BioFinger
You can run free online finergprint test right now. Run compatibility test.
Also we will be very appreciative if you fill in this form: