MELSY - metrological photoelectronic systems
MELSY MC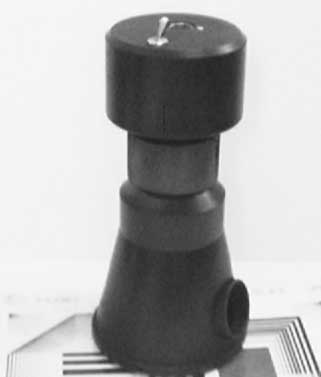 This system is designed to measure distance at photomasks and assess their quality in respect of optical density. It uses images obtained with the help of digital television camera. It may be used for topography examination and quality control of printed circuit board production.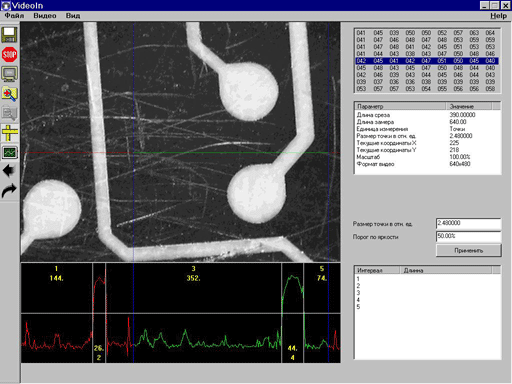 MELSY MC Software
The system consists of standard software and hardware modules. It includes digital television camera in special body, portable light box and software. Digital television camera uses USB port of PC. It is designed for image input. Windows 98/2000/XP operating system is required. Software allows data processing and measurements.
Parameters
| | |
| --- | --- |
| CMOS type | OV502AB OmniVision |
| CMOS size | 1/3'' |
| Quantity of elements | 640x480 |
| Size of field of view, mm x mm | 3x4 |
| Focusing | yes |
| Value of focusing moving, mm | 6 |
| Type of illumination | Passing reflected |
| USB version | USB 1.0 |
MELSY2000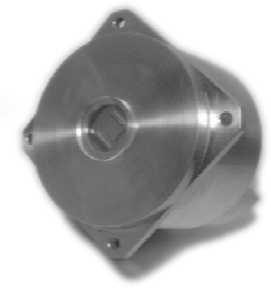 Metrological television camera MELSY2000 is constructed on the base of day television camera of high permission TELSY2000. Camera is made in watertight sensitive body of external construction with high-direct crystals landing. MELSY2000 is oriented for recording movements and changes of objects' illumination in real and delayed time with output in black and white on monitor's screen or computer's screen.
Scanning parameters
Standard CCIR (625 strings, 25 cadres). Interlaced scanning 2:1. Photodetector CCD, matrix SONY ICX-083AL, format 2/3" (8,8x6,6) mm, number of photosensitive elements 752x582.
Resolution isn't less than 550 television lines in horizontal and not less, than 450 television lines in vertical. Modulation gain is 0,80 in horizontal with frequency 400 TVL and in vertical with frequency 200 TVL. Accuracy of determination of object's movements (change of coordinates) is 0,01 mm. Maximal recorded angular velocity of object's movements (angle size of object's movements isn't less, than one matrix's element and focal distance is 12 mm) is equal to 2,6° per second.
Digitalisation
Digitalisation of analog video information in computer is made by video-blaster or plate of video capture. Input speed by parallel (LPT) computer's port is 5 cadres per second, by USB-port - 10 cadres per second, by internal ISA video-blaster - 50 cadres per second and by internal PCI plate of video capture - 50 cadres per second.
Illumination
Camera let record illumination's changes within 10-3 - 10+6 lx. The number of gradation of grey and of illumination's changes - 256 (8 bits). Threshold illumination isn't more than 1,0x10-3 lx.
Electrical parameters
Watt consumption of the camera isn't more than 2,5. Consumption current with supply voltage +12V DC isn't more than 200mA.
Dimensions
Dimensions of the camera (without an objective): the diameter is 105 mm and the height is 68 mm.
Hardware requirements.
For work there is need a PC that isn't below than class Pentium 133 MH that has either a free port LPT/USB or a free slot ISA/PCI, it depends on an selected method of plugging a device of digitalisation in. Also it needs to have no less than 16 Mb RAM, 10 Mb of the free hard disc area. The device works with Windows 95, 98, NT 4.0, 2000 operating systems.